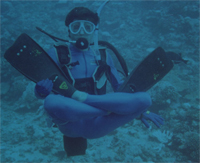 Today's guest blog is from Christian Burisch. He started his professional life as a chip designer and then became an AE for Ambit (where I first met him), Co-Design (SystemVerilog) and Tenison. Deciding to step back from the EDA industry he put together a small team and has produced a video game. Now that this is near completion he is looking for angel investors for the company. But today's blog is further insight into living overseas.

Expats, natives or nuts
I have lived in 6 countries so far, in most of them more than once.
If you move to a radically different environment you have three options: hang out with expats, go native or go nuts.
I have done all three of those. In my opinion people enjoy the company of other people like themselves. If you travel around the world you don't really do it to connect to the people of Borneo, you want to chug beers with the other backpackers. Hence the three options: find people like you in a strange place, become like the natives or become really lonely.
This is particularly relevant for couples or families who move together. You can have the working businessman who lives in expat land, his lonely wife who goes nuts and their kids who go native.
I found learning the local language quite hard. It is an essential prerequisite for the going native option. If you hang out with expats, you can avoid learning the language altogether. I have met many people who have lived in a foreign country for decades and have avoided learning the merest basics of the local language. This applies equally to American businessmen in Paris, to Brits in Hong Kong and the wives of Turkish immigrants in Germany.
My advice would be to commit early and seriously to study the language, preferably starting before you actually move there (I have never managed to do this myself, but I have seen impressive results in some of my friends who have).
Even if you don't go native, learning the language will enhance the experience multi-fold and allows you to create some connection to the locals. Signing up for lessons also a good way to meet other foreigners, who have much in common with you in finding this country new and strange.
Kids tend to go native if you send them to a local school. When they are at primary school age I have found that they have a strong urge to conform and belong to a group. Don't be surprised if they reject their own nationality and mother tongue. I don't think there is ever an age when you should rule out moving abroad with children, but clearly it is not for every kid – or adult.
Children are naturally conservative and will never want to leave their current friends and lifestyle for something new that they can't even imagine. You would have to ignore your kid's inevitable reservations but they rarely take the "going nuts" route. In all probability they will make friends with natives or expats and won't want to leave again.
If the opportunity to move abroad does arise do think twice. One thing is for sure, it will shape your life.