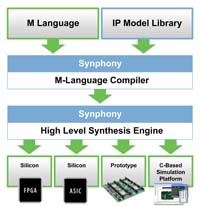 It was only a couple of weeks ago that I was writing about software-signoff and FPGAs. I mentioned that Synopsys didn't really have any high-level synthesis. Rumor has it that they do have sequential formal verification in development. Anyway, on Monday they announced Synphony which they position as high-level synthesis. Synopsys has musical product names now, not just Cadence.
Unlike other high-level synthesis it doesn't start from C or C++ or SystemC. It starts from M, which is the language used within Matlab, the system development environment of The Mathworks. A lot of system design, especially in radio and automotive, is done using Mathworks products. They are a private company with a huge number of seats that sell at that intermediate price point which seems cheap for an EDA tool but expensive for a PC tool. More than Photoshop but less than Verilog. They also distribute their software widely within universities. As a result, M and Mathlab (along with various associated products like Simulink) are the primary tool today for algorithm exploration.
I think that this is worth looking at for a couple of reasons. First, it is another step towards the new world where more and more design is done at levels disconnected from chip design by people who don't think of themselves as chip designers. And then automated tools reduce this to RTL and then to an FPGA (or gates).
The second thing worth looking at is The Mathworks themselves. They are selling at a low price point, rumored to be very profitable, sell an enormous number of licenses and are firmly on the cutting edge of technology. IC design automation can't do this, of course. There just aren't enough designers. But once you start to think of FPGA as being the implementation of choice, after all "almost all" designs will be FPGAs going forward, it's not clear that is true. The low end "fred in a shed" FPGA design is never going to invest in tools. But the big new FPGA designs need powerful tools just as much and, in aggregate, will be a big market.
Somewhat on a similar note, at ICCAD Jim Hogan and I will be talking about "How EDA needs to change" which, surprise, will tie into this theme. It will be in the Silicon Valley Room at the DoubleTree at 3pm on Monday November 2nd. See you there.