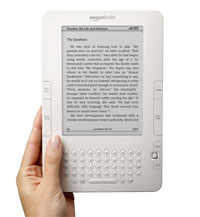 I have had an Amazon Kindle for a few months now. It's not perfect by any means but I really like it and for some sorts of books I prefer to read on the Kindle to on paper.
The first great thing, especially when traveling, is it will hold a more books than you want to worry about. It will apparently hold thousands but I prefer just to keep a couple of dozen max that I'm either reading or have on deck to read.
The screen is really good for reading provided it is light. It is really high contrast, not quite as good as paper but close. It works well in bright sunlight since it is reflective. However, there is no backlight so you can't read in the dark, you need a light to reflect. The screen is slow to update which isn't a problem when reading a normal book, a quarter of a second or so when you turn the page is fine, quicker than turning a paper page.
However, any book like a reference book or a travel guide that you want to jump around in isn't really a good match for the Kindle. The screen update is too slow and the navigation just isn't rich enough (partially because the slow screen makes a good on-screen user interface pretty much impossible). Nor is it good for any book that you want to skip chunks of. I tried reading 1000 records to hear before you die and it was painful when I came to a record (modern jazz say) that I wasn't interested in so I wanted to skip 4 or 5 pages to the next record.
The fact that you can download for free the first few chapters of any book Amazon sells (on Kindle, not all books are available) is great. You really can get into a book a certain amount before you commit to buy it. And when you do buy it, it is always cheaper than the paper version, usually $9.99. The integration with Amazon is really clean. If you decide to buy a book on your Kindle it will be there within a minute (it uses Sprint's network although they hide that and call it Amazon's Whispernet). You can also buy online on your PC (or iPhone) and it will upload it to your Kindle immediately.
The iPhone app works well too, and is synchronized with your Kindle so that you can read a book partially on your Kindle and partially on your iPhone and it will keep track of where you've got to. I'm not sure about the privacy implications of Amazon knowing just where you have got to in every book you have read, but they know so much about my reading habits anyway. I'm sure some lawsuit will want it all in discovery and there'll be the usual arguments that the government can't let you have privacy because terrorists and pedophiles might be detected by their reading habits on their Kindles.
Apart from the relatively slow screen that means that skipping around in a book doesn't really work, the thing I miss most compared to a paper book is that there is no way to tell how far you are from the end of a chapter. At the bottom of the screen there is information that tells you how far you are through the book, but when I read a book on paper I tend to peek ahead a few pages and see how long the current chapter is before I decide whether to read one more chapter (or the rest of the chapter) or go to sleep, leave the café or whatever. That may be just me, we all have little idiosyncracies about how we read.
Chris Anderson's book Free is available for Kindle. The main thesis of Free, as I'm sure you know, is that a lot of things that have real value are available for free (this blog, for instance, although the real value bit is in the eye of the beholder) because copying digital data is free. He put his money where his mouth is: Free on paper costs over $20 but when it first came out on Kindle it was free. I'm afraid if you didn't get it during that first month then it's now $9.99.