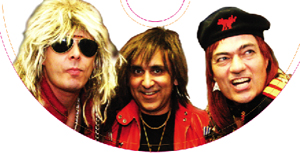 First thing. If you've not already done it, then go to the Denali website and vote for EDAgraffiti as the best blog. Especially if you come here regularly. Voting closes on Monday evening.
So DAC starts on Monday. Actually, for people in EDA it really starts on Sunday night at the EDAC/Gary Smith ultimate networking event with free beer, or whatever it is officially called. If you plan to go, then register so they know how much beer to order. Gary's annual list of what to see at DAC is already available (click on the lefthandmost industry note). John Cooley's "cheesy must-see list" is also now available. Print both of these out, grab the map of the show floor and you can plan your route.
EDAgraffiti is going videoblogging. I'm interviewing people with Point Marketing (demos on demand) on their view on SoC design and anything else that doesn't come too close to a product pitch. If you are interested in being interviewed (caveat: it's not free) then send an email to Michael Mertz. EDN's editorial policy doesn't allow them to be shown here so they'll go up on the EEtimes website as well as, of course, demosondemand.com.
Joe Costello isn't giving a keynote this year, unfortunately. But if you want to see him you'll find him here (somewhat oddly dressed, I have to admit). Wait, isn't that him on the right above?
One admittedly experimental event is Attrenta's Mike Gianfagna's blogfest at 2pm on Monday. This year bloggers have gone from being non-entities to a true voice in the domain. And meanwhile, journalists have gone from being journalists to, well, bloggers. This is the first real event where an EDA company bring bloggers truly into the fold. It will be interesting to talk about something rather than whether blogging is a legitimate complement to journalism.
When I was at Cadence, the best organized and highest quality event I used to attend was the evening at DAC when we would entertain the key journalists, analysts and financial analysts. I still remember whizzing through the streets of New Orleans with a full police escort letting us through red lights and getting us from the art museum to Chez Paul's in about 10 minutes. Then Paul Prudhomme himself came out and gave us a cooking demonstration. In those days I was part of the hosting party (I played the role at Cadence of the technical guru for investment analysts for a couple of years, since I knew pretty much the whole product line and was house-trained on the finance side). This year I get to go to some of those as the press, which feels odd to me. I'm not quite used to my new role as a "channel".
So for any of you who are new to trade-shows, let me give you some key phrases I was taught many years ago. When a visitor to your booth is someone who isn't going influence a purchase decision, don't piss them off. Today's student are tomorrow's vice-presidents. Shake their hand and say "Nice to meet you. Thank you for coming by." It's not rude but it's final. Next, at the risk of losing a major blogging scoop, I advise you that when a journalist or blogger asks you about future product plans, you say robotically, "We have nothing to announce at this time." Your VP of marketing will thank you. I've been in marketing a long time, and that last phrase has got me out of trouble often. It's not rude (like "no comment") and it doesn't reveal stuff you know but you are not meant to reveal.
I live walking distance from Moscone so it's nice to be able to stroll there rather than get on a plane. I don't know how blogging will go next week. I may run out of time to blog at all (but you are probably out of time to read). I'll try and comment on anything really interesting I run across.
Oh, and dress smartly. Peggy Aycinena is on the prowl (not personally) for the hottest guys at DAC. I'm not sure if the male equivalent of booth babes (booth hunks?) are eligible.
If you want coffee while you are at DAC, and who doesn't, you can obviously have coffee in Moscone. Next up in quality there are Starbucks on both 3rd and 4th street right nearby. But if you want some of the best coffee in the city, go over to Mint Plaza (on Mint Street which is between 5th street and 6th street). The Blue Bottle Cafe will make you a coffee that's the best you've ever had. It's worth the extra 5 minutes walk.
Have a great DAC. And I'll see you at the Denali party where I'm going to win the Next Top Blogger because you did vote for me already, didn't you.