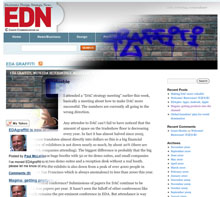 I've gone through and categorized all the old posts so if you want to find all posts on, say, engineering then click  on that category to the right.
I didn't bring comments over from the old EDN blog to avoid any ownership squabbles. I clearly own the content I wrote since I didn't assign it to EDN but the comments are more dubious. Comments are open here, though, so fire away. To minimize spam the first time you comment it will be moderated by me, but after that they should go straight through.
The EDAgraffiti book is still available here or at Amazon. It contains the best of the blog, re-edited and grouped into topics. To find out more either follow the links or click on book in the menu at the top of the page.